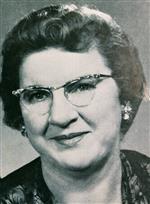 CLARA WOODRUFF SCHOLARSHIP FUND
This scholarship is named for a woman who devoted a large share of her life working for the betterment of the students and the schools of the St. Paul Community. She loved children and wanted the best for all.
The Clara Woodruff Scholarship Fund (CWSF) was created for the benefit of St. Paul High School graduates to assist financially in their higher education. There are six committee members who manage the fund. These members are citizens in the community who are St. Paul alumni or have children who have received their education in the community of St. Paul. CWSF has been in existence since 1963 with 99 recipients having been awarded more than $127,500.00 in scholarships. We have been able to give these amounts due to the generous response of alumni!
With the rising cost of higher education, it is becoming more and more difficult for students to further their education by attending college. For this reason, the CWSF committee is even more dedicated in their efforts to build this scholarship program to assist our young adults with this goal. As you read this, perhaps you, yourself were a past recipient and benefitted from this scholarship or are reminded of a special connection with a teacher who made a profound difference in your life. Please consider how you may help us provide for these young graduates and their future. Your assistance might just be the profound difference to one of our young adults.
If you are interested in donating to this scholarship fund or would like more information, feel free to contact Jennifer Koch at tjkoch@stpaultel.com.
If you are ready to donate now, you can mail your donation to:
Clara Woodruff Scholarship Fund
c/o St. Paul High School
20449 Main St.
St. Paul, OR 97137
Please include your Name, Address, Email Address.