Football Camp Grades 6-12 August 9-12

Football Camp Grades 1-5 August 9-12

St. Paul School District Board Meeting will be Monday, July 12, 2021, at 7:00 pm. You will find our agenda and packet attached for viewing:
https://5il.co/v9no


The St Paul Booster Club needs your help! All the concession stands during the St. Paul Rodeo are run by the Booster Club and manned by student athletes and their families. The proceeds go back to the athletes to purchase uniforms and other sports related items. We need more athletes and their families to join us in the concession booths! The Rodeo runs June 30-July 4 and the concession booths are from 6:00pm-10:30pm. If you are able to help and haven't already signed up, please contact Michele Nowlin 503-949-4598.

Congratulations to our 4th quarter Elementary Honor Roll Students!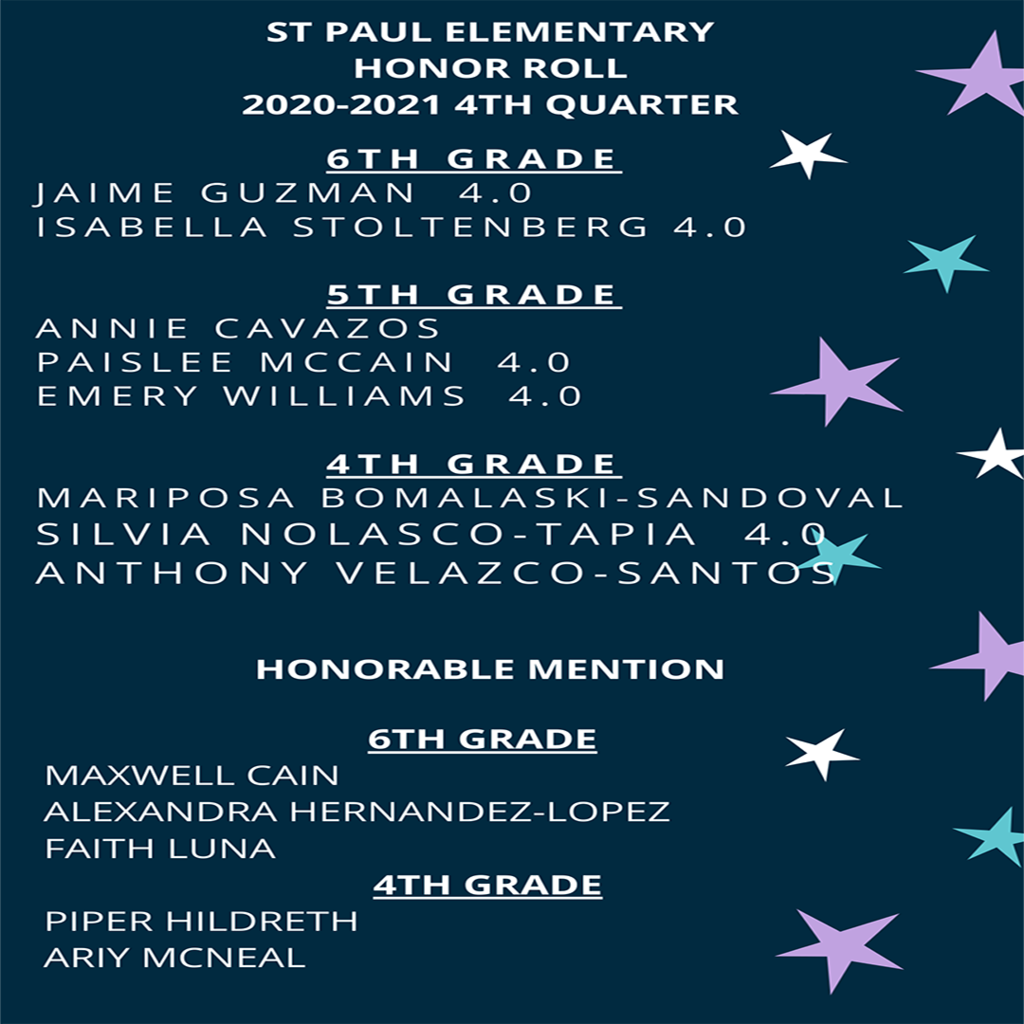 Students of the Month: Please join us in congratulating the May Students of the Month for St. Paul Middle/High School!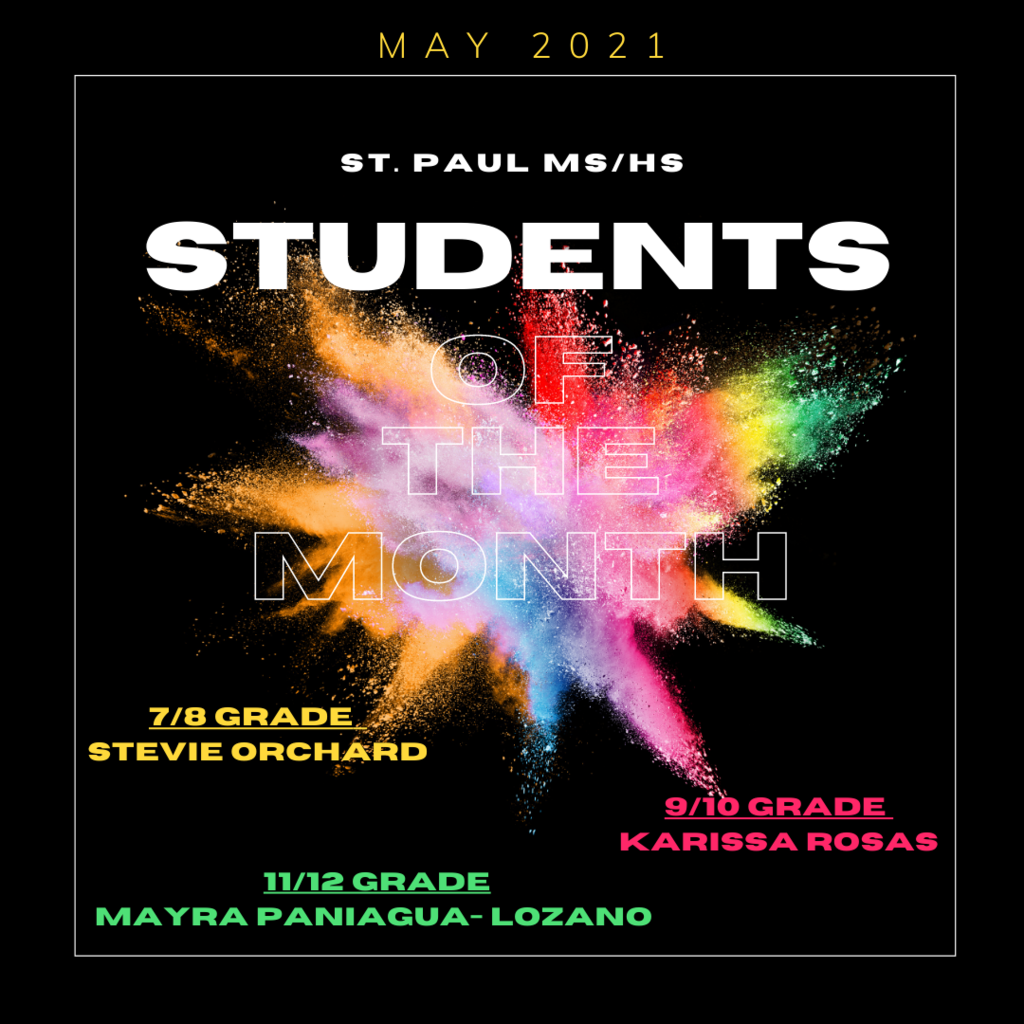 St. Paul School District Board Meeting will be Monday, June 14, 2021, at 7:00 pm. You will find our agenda and packet attached for viewing:
https://5il.co/tyah

St. Paul High School students taking online summer courses will begin their online coursework Monday, June 14th. Students will work independently on their courses for the first three weeks (June 14-July 1) and then starting July 6th Ms. Drescher will be holding in-person summer school hours from 8am-12pm Mon-Thurs in the high school commons. The in-person summer school will run from July 6-29 (4 days a week, 4hrs a day). The in-person summer school days are meant for all students, especially those who work better with a structured schedule and working environment. If you have any questions please contact Julie Drescher at
julie.drescher@stpaul.k12.or.us
or Principal Pat Schrader at
patrick.schrader@stpaul.k12.lor.us
Thank you! Julie -- Julie Drescher College and Career Readiness Coordinator St. Paul School District 503.633.2541


Booster Club Rodeo Parking Schedule for Athletes:
https://5il.co/ts9i
Please click on the link to read all about the parking schedule for this year's St. Paul Rodeo! Thank you to the coaches, parents and athletes who dedicate their time and support. It makes a difference!


Please Enjoy a Mini Spring Choir Concert! The St. Paul Middle/High School Choir has been busy this semester as we've slowly been able to sing together with more and more students at a time beginning in February as we transitioned back to in-person instruction. Please head to our website:
http://maestrafreystpaul.weebly.com/choir.html
to enjoy two different versions of I Lift My Voice from the Justice Choir Songbook–one recorded 100% virtually during first semester and the other recorded live by the in-person students with a few tracks added by CDL students, as well as The Wellerman–a traditional Sea Shanty, recorded live by the in-person students. We hope you enjoyed our other Spring performances of the National Anthem and Long Time Traveller at the Academic Awards and graduation and the National Anthem at several different sporting events, and we look forward to performing all the other music that we've started working on this Spring at live in-person concerts and performances next school year!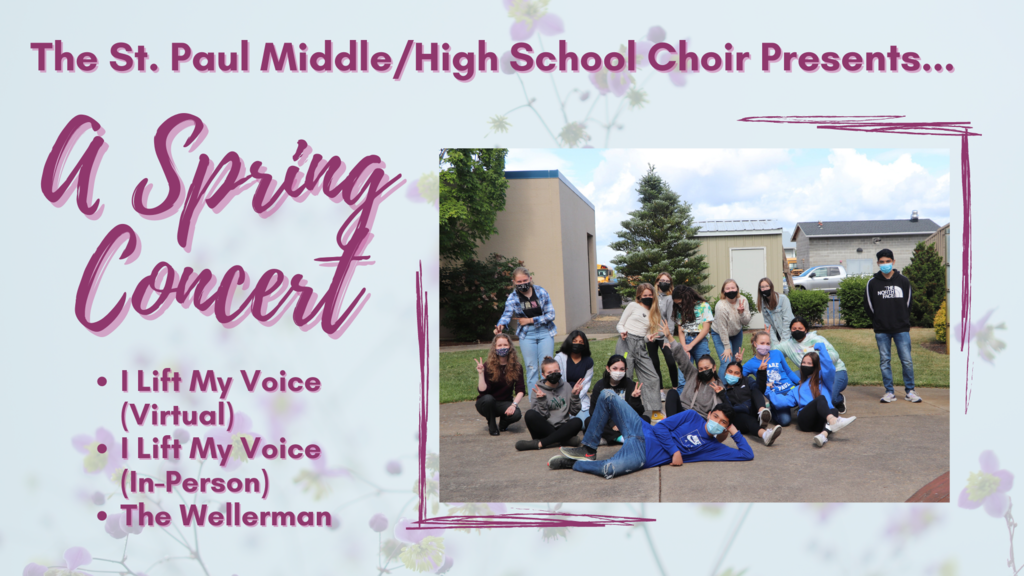 Open times still available, schedule yours now! St Paul School district is partnering with Providence Health of Newberg to provide a vaccination clinic on site for any student or community member that would like to get their Pfizer Covid vaccination free of charge. Read more:
https://forms.gle/ASMvNJXpa28zHzu99


UPDATED! St. Paul Booster Club Meeting and Rodeo Concessions: Please join us for our Quarterly Booster Club meeting. We will be discussing Rodeo! Date: Thursday, June 10th Time: 7:00 PM Location: St. Paul High School Commons Masks and social distancing are required. We may be able to meet in the outdoor courtyard. Even if you can't attend the meeting, please visit the link below to sign up for a concessions shift at the Rodeo. Please remember, this is the Booster Club's main source of funding for our athlete's and your assistance is recommended and appreciated.
https://www.signupgenius.com/go/10C0C44ADAD2AA2FDC25-booster